Berlin Palestine Swing Exchange 2018
Im April 2018 reiste eine Gruppe internationaler Swing-Tänzer zum ersten palästinensischen Swing-Austausch nach Bethlehem in Palästina. Für viele der Tänzer war es ihr erster Besuch in Palästina und sie wussten nicht, was sie erwarten sollten. Das erste, mit dem du konfrontiert wirst, wenn du palästinensisches Land betrittst, ist die riesige Mauer. Die zweite Sache ist die unglaubliche Gastfreundschaft der Menschen. In nur vier Tagen voller Tanz, Sightseeing und Abendessen wurden Swing-Tänzer aus vielen verschiedenen Ländern zu einer großen Gruppe von Freunden, die diese wundervolle Erinnerung für immer teilen werden.

Nun ist es an der Zeit, die Palästinenser für ihre Gastfreundschaft zu entschädigen und sie nach Berlin zur zweiten Runde des Swing-Tauschs am letzten Septemberwochenende einzuladen. Wir freuen uns darauf, unsere Freunde wiederzusehen und bereiten jetzt ein Programm mit Swing-Partys, Verkostungen, Sightseeing-Touren, Abendessen und vielem mehr vor. Unsere palästinensischen Gäste haben die Möglichkeit, internationale Swingtänzer und die lokale Berliner Swing-Szene kennenzulernen. Drei Tage hintereinander tanzen wir Swing, lernen uns kennen und haben eine gute Zeit.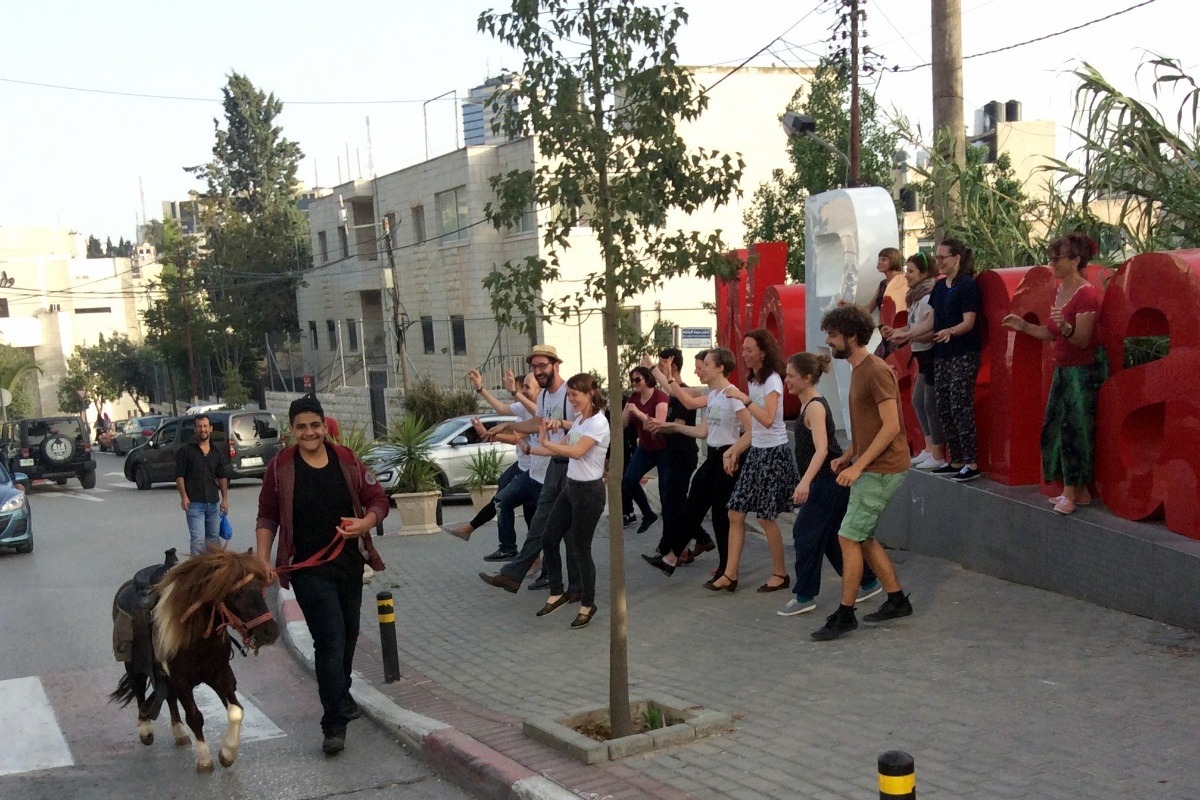 So einfach es für Europäer auch ist, nach Palästina zu reisen, so schwierig ist es für Palästinenser, überall hin zu reisen. Sie müssen ein Visum für Deutschland beantragen, das rund 100 Euro kostet. Da der Zugang zu Israel eingeschränkt ist, müssen sie nach Jordanien reisen und von dort mit dem Flugzeug nach Berlin fahren. Die gesamten Reisekosten betragen somit rund 700 Euro pro Person. Für viele Palästinenser, die sich für den Swing-Austausch anmelden möchten, ist dies eine Menge Geld, die sie sich nicht leisten können. Gleichzeitig ist es eine einmalige Erfahrung, die sie einfach nicht verpassen können.
Mit dieser Kampagne möchten wir die Reisekosten von 7 (Glückszahl!) Palästinensischen Swing-Tänzern decken, damit sie im September 2018 der Berliner Palästina Swing Exchange beitreten können. Mit Ihrer Spende tragen Sie zum Verständnis unter Völkern aus vielen verschiedenen Ländern bei Länder und Hintergründe, so dass sie zusammen tanzen und lachen können. Sie werden es auch einer Handvoll Palästinenser ermöglichen, einmal aus ihrem Land zu fliehen und die Zeit ihres Lebens in Berlin zu verbringen. Um unsere Dankbarkeit für Spenden über 50 € zu zeigen, senden wir Ihnen ein kleines Souvenir!
Wir halten Sie auf unserer Facebook-Seite auf dem Laufenden: https://www.facebook.com/Berlin-Palestine-Swing-Exchange-231305480962752/
Bei weiteren Fragen zögern Sie nicht, uns hier zu kontaktieren oder unter: berlinpalestineswingexchange@gmail.com
---
SAVE THE DATE!
The second part of the Berlin Palestine swing exchange is underway, with great parties, tours, dinners and swing-outs to come! Please save the date and stay tuned! We will inform you of any updates here and on the official page of the exchange. Looking forward to dancing with you all!
Love,
Berlin Swingies