Bonn: Do 08.06.2017 Jamal Juma'a: 50 Jahre gewaltfreier Widerstand gegen Besatzung!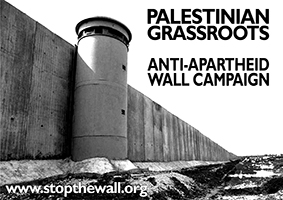 Wann:
Donnerstag, 08. Juni 2017 – 19:00 Uhr
Wo:
MIGRApolis Deutschland
Brüdergasse 16-18, 53111 Bonn
Vortrag von Jamal Juma'a, Stop the Wall Campaign, Ramallah
Die palästinensische Kampagne gegen die Apartheidmauer (Stop the Wall Campaign) ist ein Basisbündnis palästinensischer Nichtregierungsorganisationen und Volkskomitees. Ihre Ziele sind der Baustopp und Abriss der Apartheidmauer, die Rückgabe der für die Mauer beschlagnahmten Grundstücke und Wieder-gutmachungszahlungen für Schäden und Einkommensverluste, die durch den Mauerbau entstanden sind.
Diese Forderungen sind fester Bestandteil des Widerstandes gegen die israelische Kolonisierung, Apartheid und Besatzung, und für die Rechte und die Selbstbestimmung des palästinensischen Volkes.
Die Kampagne gegen die Apartheidmauer arbeitet vor Ort als Sprachrohr für die palästinensischen Dorfgemeinden, auf nationaler Ebene durch Mobilisierung und Vernetzung und schließlich international als Teil der weltweiten Bewegung gegen Kolonisierung, Krieg und Rassismus – https://www.stopthewall.org/
Die Stop the Wall Campaign vernetzt die Volkskomitees in jenen Gemeinden, in denen das Zerstörungswerk der Mauer bereits vollendet ist oder unmittelbar bevorsteht.
Jamal Juma'a lebt in Al Ram bei Ramallah und ist der Sprecher der Kampagne. Er wird über ihren gewaltfreien Widerstand und zivilen Ungehorsam gegen 50 Jahre Besatzung berichten.
Der Vortrag wird auf Englisch gehalten, eine Übersetzung wird angeboten. Der Eintritt ist frei, Spenden sind willkommen.
Veranstalter: Palästinensische Gemeinde Bonn und Deutsch-Palästinensische Gesellschaft NRW-Süd